1967 Vespa 150 Super Restoration Project (Part 3 of 5)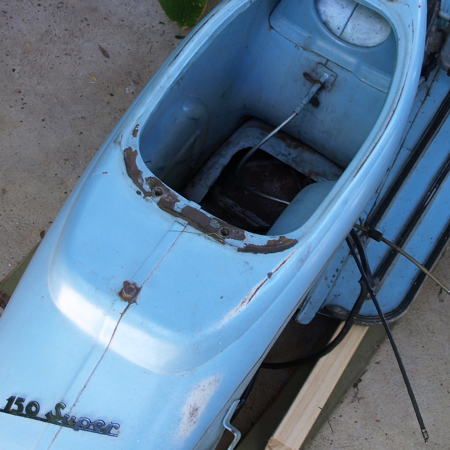 Project Vespa 150 Super Restoration Diary Part 1

?? November 2009

I went to my nephew's house where my Vespa had been stored for a number of years. I need to bring it back home so that I can begin work on it. I remember the day well as a tradesman who was installing an air conditioning unit at the house backed straight out of the driveway and into the door of my car parked across the road. Oh well. Anyway, I wanted to see if I could start my Vespa. I poured in the petrol I had brought along as the tank was bone dry and added some twenty year old two-stroke oil. I checked the spark. It was nice, bright and fat. I tried several times to kick start it but no luck. Happily the house was on a hill and it spluttered into life just as I was about to get to the bottom. I see by the registration sticker that the last time it was registered was in 1991. I won't tell you how I got it home as I would be incriminating myself. Once home, a trip around the block to test it on a familiar hill. Its performance was rather asthmatic and it stalled a number of times.

Wednesday-Thursday 2-3 December 2009

Began research on Internet. This wasn't the first time I had looked at things Vespa. About two years ago at work, I poked around and read up on some Piaggio history and the story of the Wasp. Perhaps unconsciously that was the catalyst for this project, but I don't recall wanting to get the old girl working again, and yet I had kept her all these years. This search was to try and find a place to get spare parts in Melbourne. Along the way I discover a year make chart and so can find the build year of my Vespa.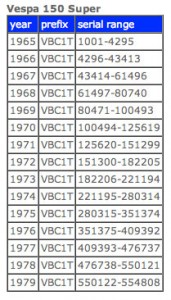 http://www.scooterdave.com/?page_id=177



The model and serial number of my 150 Super is VBC1T 59162. That means it was built in 1967. Looks like there were 18,082 of this particular model made during that year. That's extraordinary! At an average of 1,507 per month, mine may have been built in October 196