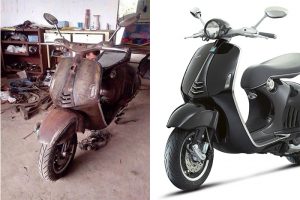 A group of enterprising welding technicians in District 11 are trying their hand at making their own Vespa 946. This limited edition bike from Piaggio costs about VND349 million in Vietnam and is the envy of scooter enthusiasts.
The aforementioned technicians start by using a normal bike frame and adding metal sheeting which is molded into the shape of the Vespa.
Just because it's a copy doesn't mean it's cheap, however – the total cost for the work is just about VND100 million.