Original Post belinni-blog.blogspot.com.au
Vespa 150 Sprint, born in Pontedera, Italy in 1968. This scooter has had the rear end modified GS150 style, has had the old squared off side panels and mudguard swopped for the more curvaceous lines of some VBB panels, has been  painted white, with a tan GS150 seat, fitted with a new style PX125 engine and finished off with some smart whitewall tyres and chrome rims.
Completed April 2011 
For the purists out there, this scooter had already been modified, had an ACMA style rear end and seat, with exposed cables, chrome headset/handlebar assembly etc. First thing was to dump the old engine, convert back to concealed cables and fit the new handlebar assembly.
Seat posts were cut off and welded back up to accept a GS150 seat…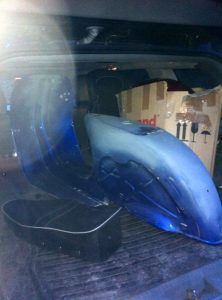 The frame itself was actually in very good order..
Frame and panels off to the painter, seat away for re-covering…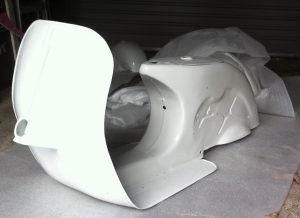 Frame and panels back from sprayer, a fantastic job done. Notice the 92L2 in the background awaiting restoration, see how the rear end is mirrored with the original.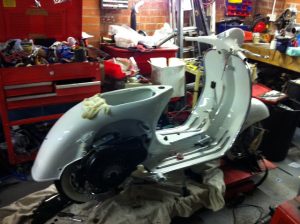 More rounded VBB panels really set off the back end..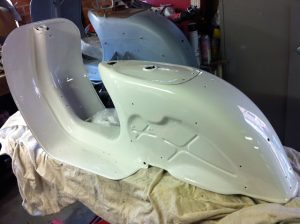 Chrome edging trim and floor runners fitted…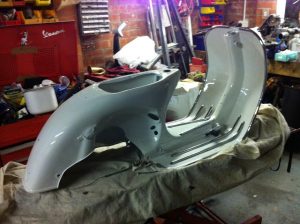 New PX style engine, cables, chrome wheels and Continental 10″ whitewall tyres…..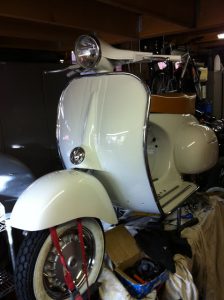 New wiring loom and conversion to 12V, regulator neatly installed…
Headset and front end fitted, a big improvement..
Completed April 2011